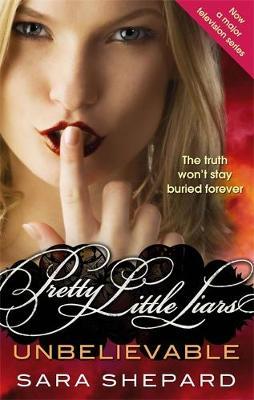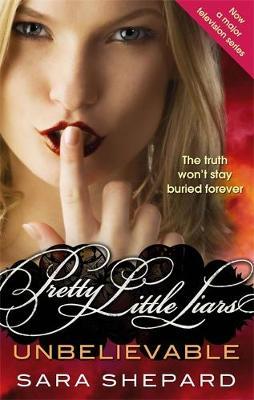 Pretty Little Liars: Unbelievable (#4) – Sara Shepard
$20.00
Four pretty little liars' charmed lives have turned into living nightmares.
Emily's been shipped off to Iowa to live with her uberconservative cousins. Aria's boyfriend is behind bars–because of her. Spencer's afraid she was involved in Ali's murder. But Hanna's fate is far worse: She's clinging to life in the hospital because "she knew too much."
If these girls don't start listening to me, Hanna's going to look like the lucky one.
9781907410741
Description
Pretty Little Liars (Book 4).
In Rosewood, where the air smells like apples and Chanel No. 5, nothing is as it seems. Five best friends once shared everything – even their deepest, darkest secrets. Back then for Aria, Spencer, Hanna, and Emily it was a dream come true . . . until Alison, the most beautiful of them all, suddenly vanished.
Now someone named A has turned their charmed lives into a living nightmare. With A's threats turning dangerous and Ali's killer still on the loose, the girls must uncover the truth, but will it bring an end to the horror . . . or is this just the beginning?
9781907410741